The historic city center is fully restored and offers a beautiful setting for an evening stroll at the end of a sailing trip.
By the end of the 19th century Zadar served as a fortress to the Venetians. It is located on a narrow peninsula on the Adriatic sea and is separated from the mainland by a moat. As the capital city of northern Dalmatia, Zadar is an ideal base for your yacht charter. The arrival is quick and easy, it is connected by the European Route 65 and the Highway 1.
The Zadar archipelago, with Ugljan, Pasman, Dugi Otok, Iz and the Kornati National Park with its 147 islands, makes Zadar ideal for a nice cruise. The driving to Zadar (even at night) is absolutely not a problem.
Charter Zadar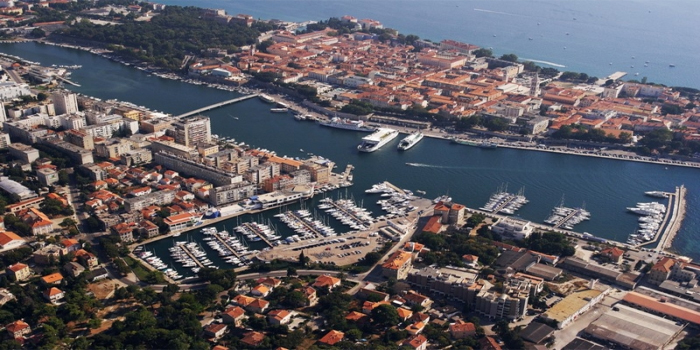 In the northwest is the Tankerkomerc Marina (44 ° 07.02 'N 15 ° 13.7' E) in the northeast of the port. The marina is narrow and not very deep and in the back moorings run flat. The showers and toilet facilities are rather rustic.
1sm in the northwest is the Marina Borik (44 ° 07:54 'N 15 ° 12:36' E) located on a small peninsula. In the high season here have to be found alternative places. Also important to note is the Marina Dalmacija (44 ° 03 'N 15 ° 18' E) 7 km south of Zadar, which is built in a naturally protected bay near the places Bibinje and Sukosan.
Information about the Marina Zadar