Marina Funtana
Funtana (Italian Fontane = fountain) is a coastal village and municipality in Istria, Croatia.
The number of inhabitants of the village is 831. The small town of Funtana was named by the spring water deposits in the region. Although these sources are no longer used, so leave today for water canals from the Roman period found at the sources. Worth seeing is the parish church of St. Bernard with its precious oil paintings, which was built in 1621. In the center there is the famous Kastel Fortress which was built in 1610th
Marina Funtana Croatia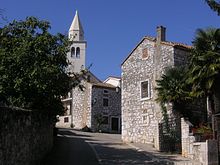 As a guide to entering the church tower is on the hill above the shoreline
and Green Lantern (harbor beacon) at the end of the breakwater.

Warning: there is the shoal Janjci whose northern edge is marked by a black bar with two red stripes and two patch black balls on the north side of the Bay of Funtana.
South of the harbor entrance, between the islet of Veli Školj and the coast, there is the shoal Funtana, which is marked by a yellow-red bar with two black cones, have their points upwards.
In the bay, about 200 m west of the breakwater, are dangerous rocks and projections. The safest way to run an on the west side. Pay attention to the shoal Janjci.
Yachtcharter Funtana
Weather FUNTANA
Climate - It has a Mediterranean climate with mild winters and long warm summers.
In the spring is the air temperature at 12.5 ° C, in summer 23,4 ° C, in autumn at 15.6 ° C and 5.5 ° C in winter
On the west coast of Istria about 2000 hours of sunshine are counted in the year.
The main winds are Bora, south wind (sirocco) and Maestral.
The Bora blows mostly in the winter from the continent to the sea and it brings colder weather, jugo blows from the open sea forth into the land and brings clouds and rain, and the blowing from the sea in the summer wind Maestral, brings nice refreshment.
Information Marina Funtana
Open all year round, the marina has 180 berths at sea and approximately 50 on land, which all have a power and water supply
Service Marina Funtana
Reception
Laundry
Diving service
Sanitary facilites (showers and toilets)
Repair shop
Crane with 20t bearing force
small grocery store
parking lot
Marina Funtana Images
Marina Funtana Video
MARINA FUNTANA MAP
Marina Funtana Contact
Ribarska 11
52452 Funtana
Phone: 00385/52428500
Fax: 00385/52428501
UKW Kanal 17
E-Mail: funtana@montraker.hr