Details
Elan 344 Impression Croatia
The smallest model of the Elan Impression series lands a surprising success. The Elan 344 has been selected in the category up to ten meters for European Yacht of the Year.
If even revolutionize, then tidy. So you probably thought at the Slovenian shipyard Elan when you extended the successful Impression-line to the ten-meter class. In 2004, one in front of the 434, in early 2005 followed by 384 and finally transferred to the successful concept on the new 344 Impression.
A concept that provides space and cruising qualities to the fore and a correspondingly voluminous hull requires. The smaller a yacht, the more difficult such a program is to be implemented visually clean, because elegance can be achieved more easily by holding stretched lines.
In addition, the 344 is shorter than it appears nominally: The body length of 9.99 meters corresponds to 32.8 feet; So this is clearly less than 34 feet, on which one could close due to the type designation. These ten meters are packaged behind a high freeboard and a width of 3.49 meters. In order for the Elan 344, although only slightly wider than the competition, but here every centimeter counts. For comparison: Dufour 325 3.44 m, 3.47 m Sun Odyssey 35, Oceanis and Bavaria 33 Cruiser 3.48 m. And yet: Designer Rob Humphreys has hinbekommen with fine swing a structure which can be proud - and quite arrives, as the decision of the jury proves EYOTY.
Technical specifications - Elan 344 Impression Croatia
| | | | | | | | | | | |
| --- | --- | --- | --- | --- | --- | --- | --- | --- | --- | --- |
| | | | | | | | | | | |
| | Yacht model: | | Elan 344 Impression | | | | Length: | | 10.30 m | |
| | | | | | | | | | | |
| | | | | | | | | | | |
| | Type: | | Segelyacht | | | | Width: | | 3.49 m | |
| | | | | | | | | | | |
| | | | | | | | | | | |
| | Manufacturer: | | Elan | | | | Draught: | | 1.60 m | |
| | | | | | | | | | | |
| | | | | | | | | | | |
| | Manfuactur year: | | 2008 - 2015 | | | | Sail area: | | 59 m² | |
| | | | | | | | | | | |
| | | | | | | | | | | |
| | Cabin / Beds: | | 3 / 6 + 2 | | | | Number of masts: | | 1 | |
| | | | | | | | | | | |
| | | | | | | | | | | |
| | WC / Toilets: | | 1 | | | | Number of motors: | | 1 | |
| | | | | | | | | | | |
| | | | | | | | | | | |
| | Main sail: | | Rollgroß | | | | Engine Power: | | 29 PS | |
| | | | | | | | | | | |
| | | | | | | | | | | |
| | Head sail: | | Rollgenua | | | | Fuel: | | Diesel | |
| | | | | | | | | | | |
| | | | | | | | | | | |
| | Control: | | wheel | | | | Flag: | | HR | |
| | | | | | | | | | | |
| | | | | | | | | | | |
| | Water tank: | | 220 l | | | | Fuel tank: | | 130 l | |
| | | | | | | | | | | |
Elan 344 Impression Catalog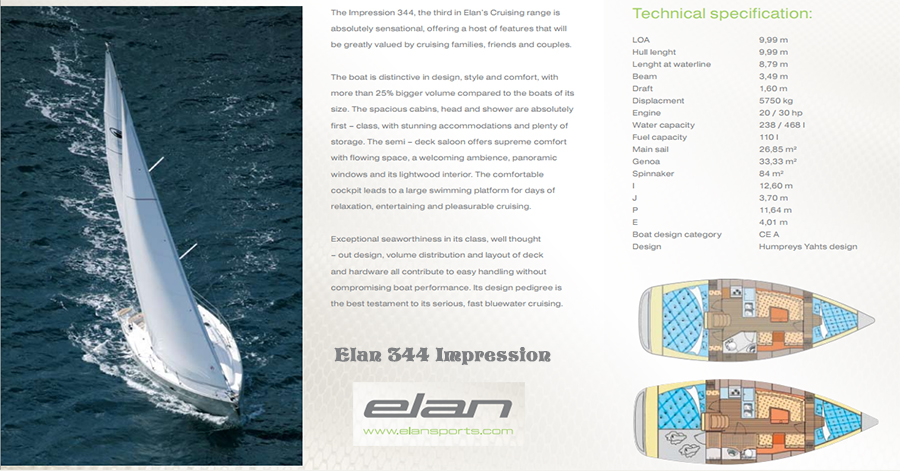 Preise und Verfügbarkeit der Charteryacht
Zusätzliche Information
| | |
| --- | --- |
| marina croatia | Cres, Funtana, Mali Losinj, Pula, Rab, Punat, Rovinj, Vrsar, Baska Voda, Rogoznica, Split, Trogir, Biograd, Murter, Primosten, Sukosan, Sibenik, Vodice, Zadar, Dubrovnik |
| cabins | 3-Kabinen |
| berth / bed | 6+2 berths |
| heads / bath | 1 Nasszelle |
| sail area | 59 qm |
| number of motors | 1 Motor |
| motor power | 29 PS |
| water tank | 220 Liter |
| fuel tank | 130 Liter |