Details
Beneteau Lagoon 560 Croatia
Did you ever pass skippers with a luxury Catamaran on the Caribbean coast? Live your dream. Sailing holiday with the Lagoon 560 in the Caribbean would be worthwhile for you. Let it go well on the 17.07 m long and 9.44 m wide catamaran yacht. Enjoy the beautiful optics and enjoy the 4 + 2 cabins, as well as 8 + 2 berths with the best equipment.


Lagoon 560 Croatia
The Lagoon 560 is the ideal cruising catamaran for families as well as crews.
It offers a lot of space, both on and below deck. Spacious and welcoming, the cockpit is the perfect place to stay at and to sit together, as well as the voluminous salon. Vertical hull windows provide plenty of light and air.
Croatia, with its innumerable islands is a very popular sailing region. Make it a trip to the National Park Kornati.
Sunny greetings from Sunja Yachting Team!


Specifications for Benetau Lagoon 560 Croatia
| | | | | | | | | |
| --- | --- | --- | --- | --- | --- | --- | --- | --- |
| | | | | | | | | |
| | Yacht model: | | Lagoon 560 | | Length: | | 17.07m | |
| | | | | | | | | |
| | | | | | | | | |
| | Type: | | Catamaran | | Width: | | 9.44m | |
| | | | | | | | | |
| | | | | | | | | |
| | Manufacturer: | | Beneteau Lagoon | | Draught: | | 1.50m | |
| | | | | | | | | |
| | | | | | | | | |
| | Built Year: | | 2011 | | Sail area: | | 252.0qm | |
| | | | | | | | | |
| | | | | | | | | |
| | Cabins / Berths: | | 4 + 2 / 8 + 2 | | Number of masts: | | 1 | |
| | | | | | | | | |
| | | | | | | | | |
| | Bathrooms / Toilets: | | 4 + 2 | | Number of motors: | | 2 | |
| | | | | | | | | |
| | | | | | | | | |
| | Main sail: | | Rollgroß | | Engine power: | | 2 x 110.0 PS | |
| | | | | | | | | |
| | | | | | | | | |
| | Head sail: | | Rollgenua | | Fuel: | | Diesel | |
| | | | | | | | | |
| | | | | | | | | |
| | Control: | | Rad | | Flag: | | HR | |
| | | | | | | | | |
| | | | | | | | | |
| | Water tank: | | 960l | | Fuel tank: | | 1300.0l | |
| | | | | | | | | |
Lagoon 560 Croatia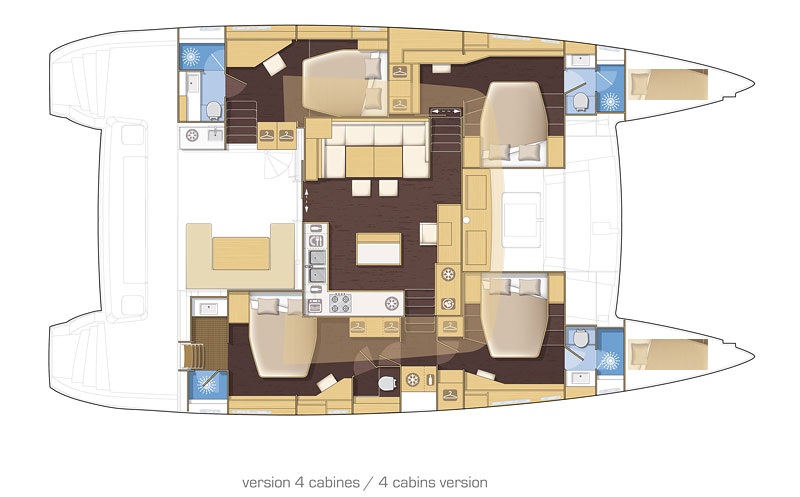 Preise und Verfügbarkeit der Charteryacht
Zusätzliche Information
| | |
| --- | --- |
| marina croatia | Cres, Funtana, Mali Losinj, Pula, Rab, Punat, Rovinj, Vrsar, Baska Voda, Rogoznica, Split, Trogir, Biograd, Murter, Primosten, Sukosan, Sibenik, Vodice, Zadar, Dubrovnik |
| cabins | 4+2 Kabinen |
| berth / bed | 8+2 berths |
| heads / bath | 4 Nasszellen |
| sail area | 252.00 qm |
| number of motors | 2 Motoren |
| motor power | 220 PS |
| water tank | 960 Liter |
| fuel tank | 1300 Liter |