Details
Elan 444 Impression Croatia
Always up to date in design and technology, the strength of the hull on the water of life and attention to detail - all this Elan Impression has united in the 444 The years of experience of the Elan teams came here a ship to good which offers security and speed and the space available.
The thoughtful design also allows for this vessel easy handling for small Crews.Die Impression 444 is a revision of the 434.
It is based on the hull and the deck of its predecessor, designed by Rob Humphreys. As a novelty, it is replaced by a fold-out bathing platform at the stern shape.
The windows in the hull and structure can now be partially opened. There are four configuration variants with two, three or four cabins. Hull as well as the deck of the Impression 444 are produced in Elan in-house vacuum infusion process (VAIL).
The Elan 444 Impression is the successful update of a bestseller. Regardless of the high displacement of homely Tourer has under sail more strikes than usual.
Modern and innovative
The new model from Elan Marine is again leading the way into the Cruiser Line ahead and provides comfort in every respect. The Yachts of Elan brand are unique in their power, their comfort, quality and their safety and provide the sailor unrestricted sailing pleasure at the highest level.
Eye-catcher on the quay
The Yachts of Elan Racer and Cruising series are designed by the star designer Rob Humphreys, whose work among others, the Oyster, Southerly, BT Global Challenge, Kingfisher, GBR Challenge includes AC and other yachts. The principal criteria focus on the "On-Water Performance" and the attractive lines in the field of classical and Racer Cruiser fashion - in other words, the yacht has to be fast on the water and on the quay an eye-catcher. A Elan yacht calling at each owner produced a strong pride of ownership.
Technical specifications - Elan 444 Impression Croatia
| | | | | | | | | | | |
| --- | --- | --- | --- | --- | --- | --- | --- | --- | --- | --- |
| | | | | | | | | | | |
| | Yacht model: | | Elan 444 Impression | | | | Length: | | 13,85 m | |
| | | | | | | | | | | |
| | | | | | | | | | | |
| | Type: | | Sailing yacht | | | | Width: | | 4,18 m | |
| | | | | | | | | | | |
| | | | | | | | | | | |
| | Manufacturer: | | Elan | | | | Draught: | | 1.90 m | |
| | | | | | | | | | | |
| | | | | | | | | | | |
| | Manufactur year: | | 2011 | | | | Sail arae: | | 46,47 m² | |
| | | | | | | | | | | |
| | | | | | | | | | | |
| | Cabins / Beds | | 4 / 8 + 2 | | | | Number of masts: | | 1 | |
| | | | | | | | | | | |
| | | | | | | | | | | |
| | Bathrooms / Toilets: | | 4 | | | | Number of motors: | | 1 | |
| | | | | | | | | | | |
| | | | | | | | | | | |
| | Main sail: | | Rollgroß | | | | Motor power: | | 75 PS | |
| | | | | | | | | | | |
| | | | | | | | | | | |
| | Head sail: | | Rollgenua | | | | Fuel: | | Diesel | |
| | | | | | | | | | | |
| | | | | | | | | | | |
| | Control: | | 2 x wheels | | | | Flag: | | HR | |
| | | | | | | | | | | |
| | | | | | | | | | | |
| | Water tank: | | 516/788 l | | | | Fuel tank: | | 270 l | |
| | | | | | | | | | | |
Elan 444 Impression Catalog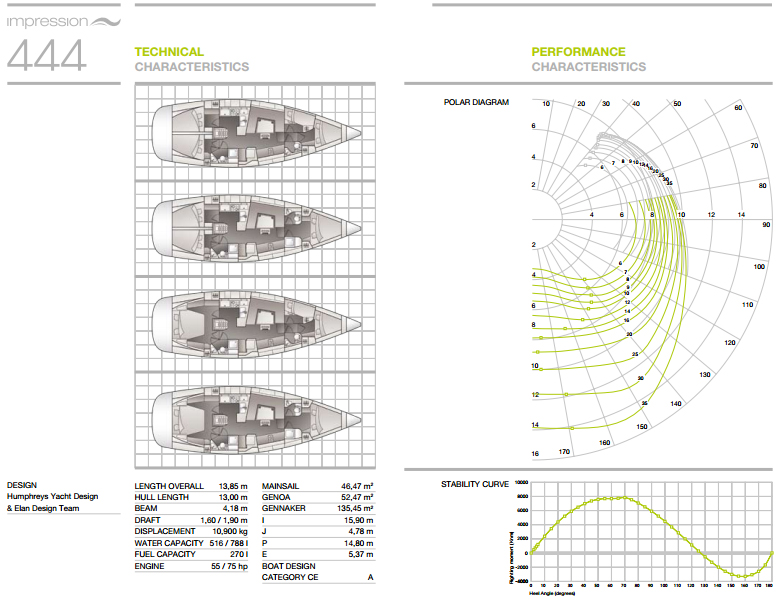 Elan 444 Impression Video
Preise und Verfügbarkeit der Charteryacht
Zusätzliche Information
| | |
| --- | --- |
| marina croatia | Cres, Funtana, Mali Losinj, Pula, Rab, Punat, Rovinj, Vrsar, Baska Voda, Rogoznica, Split, Trogir, Biograd, Murter, Primosten, Sukosan, Sibenik, Vodice, Zadar, Dubrovnik |
| cabins | 4-Kabinen |
| berth / bed | 8+2 berths |
| heads / bath | 4 Nasszellen |
| sail area | 46,47 qm |
| number of motors | 1 Motor |
| motor power | 75 PS |
| water tank | 516 / 788 Liter |
| fuel tank | 270 Liter |